[html-si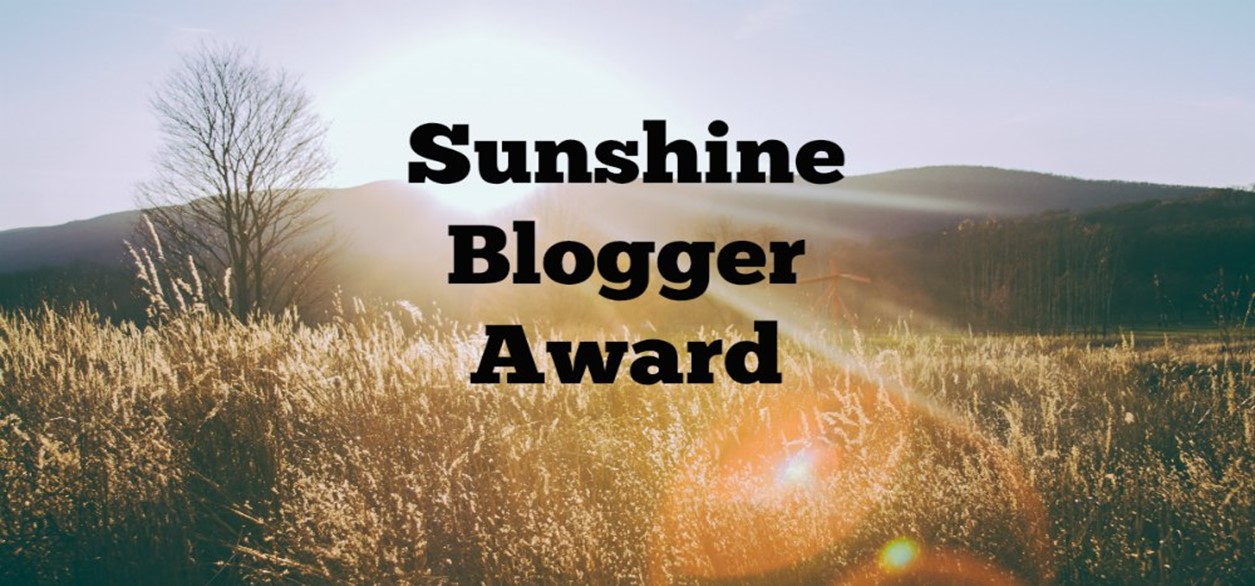 The Sunshine Blogger Award is given to bloggers by bloggers. It is used to highlight bloggers that are positive, creative, inspiring and bring sunshine into the lives of their readers.

How does it work?

1. Thank the person that nominated you and post a link to their blog on your blog
2. Answer the questions from the person that nominated you
3. Nominate some other bloggers for this award and give them questions to answer, too.
4. Notify the bloggers you have nominated
5. List the rules and display the Sunshine Blogger Award logo

I am truly grateful and honored to have been nominated for the Sunshine Blogger Award by Vanessa Sylvester of Journey to Leadership, as her blog is one I have great respect for in the Career Advice industry (and one I personally read myself)!

Each nominator prepares questions for the recipient(s), which they answer as part of their blog content.

I have answered Vanessa's questions below, and will list my nomination(s) at the bottom of this post!

Why Did You Start Blogging?

I started blogging for the same reason I enjoy working with clients and job seekers: I want to provide meaningful information to help others improve their current situation. That situation may be that they are understaffed, that they need greater efficiencies within their company, a better paying job, or even simply A JOB. I spend time with each individual and answer all of the questions I am able to, but sometimes the best lessons are learned by hearing the experiences of others. Having a blog has helped me articulate some of the common issues many professionals are faced with. I want my clients to have a resource where they can search topics of interest and have informational content at their fingertips.

What is it That You Like Most About Blogging?

I like that I am able to publish my advice to the public in a searchable format. I have always wanted to be able to increase my reach – to help individuals that don't have the resources to hire a career coach or transition specialist. We offer a Friday Forum to answer questions related to various career issues, and I make it a point to respond to each question. I want my readers to feel comfortable asking any question they have, and know that those questions will be answered in a timely manner.

What is Your Dream Job?

My dream job is running a career consulting firm on a global scale, where we are able to service individuals at all professional levels in real time. I know it is a tall order to be everywhere, all the time, but I have always had the desire to reach everyone that is in need.

What is the Most Exciting Thing You Have Ever Done?

The most exciting thing I have ever done is fly in a private jet. It was a very special experience that I will not take for granted.

What is a Book You Would Definitely Recommend?

That is a tough one – there are so many that have been very impactful to me. How Successful People Think by John Maxwell is a great place to start, because your mindset really does control your destiny. Another would be From Good to Great by Jim Collins. I recently wrote a post about insightful books, because knowledge is the best gift one can get!

How Would You Describe Yourself in Three Words?

That's easy: Resourceful, Rational, and Practical.

What is the Best Advice Anyone Has Ever Given You?

The best advice anyone has ever given me has echoed in my mind many times in business. That advice was "just when you think it's time to give up, keep going. The vast majority of people are so close to massive success, but throw in the towel as soon as the going gets tough. Grit is the one characteristic EVERY successful person has in common – they all persevered when success seemed impossible."

My Nominations

I have a number of blogs I have read that I have been inspired by, but I am making it a point to choose three that I regularly visit.

I nominate:

John Mulindi of Business and Life Tips

Nadalie Bardowell of It's All You Boo

Amber Temerity of Thrifty Guardian, not only for her blog, but also her hard work maintaining her Facebook Group Boards

Here are my questions for you:

When did you know that having a blog was the right move for you and/or your business

Where do you see yourself in 5 years/ 10 years?

What is the one thing you hope for your blog to accomplish?

What is the best piece of advice you would give to someone just getting started?

When do you feel that your blog hit a turning point and why?

What is one strategy secret that you are comfortable sharing?

Good luck, and please email me with any questions!

Want to Improve Your Interview Skills?
Our FREE Behavioral Interview Guide contains over 24 pages of specific questions to ask, categorized by the skill you are probing for. Download your guide today!