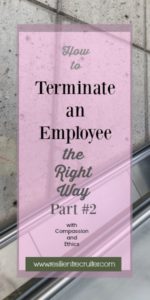 Resilient Recruiter is an Amazon Associate
This is the second article in the series How to Terminate an Employee the Right Way, with compassion and ethics. If you would like to read the first part, please click here. Almost everyone that has ever terminated an employee can tell you that it is never an easy task, and there are usually words or actions that they would do differently, if given the opportunity. Firing an employee is not only severing him or her from your company, but it is a tragic event in their lives, and must be handled delicately.

In Part #1 of the series we outlined some major topics that must be covered prior to, and during the termination of an employee. As a recap, we covered:

1. Documentation– Be sure that any violations, performance issues, or reprimands are well documented and followed through on prior to terminating an employee.

2. Address the Termination with Compassion – Make sure that you are direct and don't delay the termination. Let the person know why they are in the meeting, and what is happening, but do so with compassion. Remember that this is a human being, and that emotions are bound to erupt. Each person will handle a situation differently. Be prepared to listen.
3. Be Clear on Next Steps – Be prepared to hand the employee a packet of information (and a point of contact) for next steps. He or she may not be able to process everything you are saying at the moment of the termination, so make sure that you provide the same information in writing for he or she to refer to later.



Once the Employee Walks Out the Door

The way that the employee exits the termination meeting (and then the building), will have a lasting effect not only on him or her, but the existing employees as well. This relatively small window of time can impact morale well into the future. There is a very real chance that the employee will have relationships with others in the company, and they will feel strongly about how this person is treated, even if he or she violated a policy, or behaved unprofessionally. Keep that in mind, and try to put yourself in the person's place. How would you want to exit the company if you were losing your job?

Again – make sure you have either communicated or provided in writing, a clear explanation of when the employee will receive his or her last paycheck, information on health benefits, severance pay, and other insurance, if applicable.

Outplacement – If at all possible, I recommend providing outplacement service. Outplacement service can vary, depending on the provider, but will be an incredible source of support, guidance, and organization for a displaced employee at a very uncertain time in his or her lives. The Outplacement counselor typically stays with the individual until he or she lands in their next position. The service provides a neutral point of contact for questions and advice throughout the search process. Resume assistance, interview advice, and job offer negotiation are included under the outplacement umbrella. Providing outplacement for a terminated employee further reinforces respect and dignity, even after an exit.

How to Communicate a Departure to Other Employees

Every aspect of the termination process requires professionalism and dignity; communicating the departure to other employees is no different. There are different methods for letting other employees know such as:

Gathering the group together at a small company to communicate an employee's departure

Emailing other employees with a consistent message

Convening with small groups to communicate the news

Regardless of the method you choose, the message should be extremely professional, and not derogatory in any way. You should explain that the employee is no longer with the company, but hold off on the details. Other employees do not need to know whether the person has departed voluntarily, or was fired. Much like the termination, keep the message brief, direct, and professional. Others need to know that the employee is no longer with the company, and where the person's responsibilities will be directed – nothing more. If he or she chooses to provide additional information, it is a personal choice.

How to Communicate a Termination to Customers or Vendors

The messaging you provide to customers or vendors regarding a termination should be very consistent with the communication you provided your employees. You will need to ensure them that their level of service will not be disrupted, and provide an immediate point of contact. Do not engage in gossip or negativity – the customer may not have been happy with the service provided by the employee, but he or she will remember the lack of professionalism on behalf of management long after that employee is replaced. Be sure that any issues or concerns are addressed and resolved, and move on.

Conclusion

Letting an employee go, regardless of the reason, is difficult for everyone involved. Preparing for a termination, and handling it humanely is the key to soften this very uncomfortable and awkward task. Always try to related to the employee being terminated, and determine how you would want the situation handled if the tables were turned.

Of the comments I have received, the one that most "firing" managers have mentioned has been related to improving the performance of an employee. My next article will outline just that: What to do When an Employee is Not Performing. We will discuss just what a performance improvement plan should entail, and how to follow up on accountability.

For more articles like this, and free tools and resources, please follow my blog!

Natalie Lemons is the founder and President of Resilience Group, LLC, author of The Resilient Recruiter, and Co-Founder of Need a New Gig.  She specializes in the area of Executive Search and Career Coaching and services a diverse group of national and international companies, focusing on mid to upper-level management searches in a variety of industries.  For more articles like this, follow her blog.
Want to Improve Your Interview Skills?
Our FREE Behavioral Interview Guide contains over 24 pages of specific questions to ask, categorized by the skill you are probing for. Download your guide today!