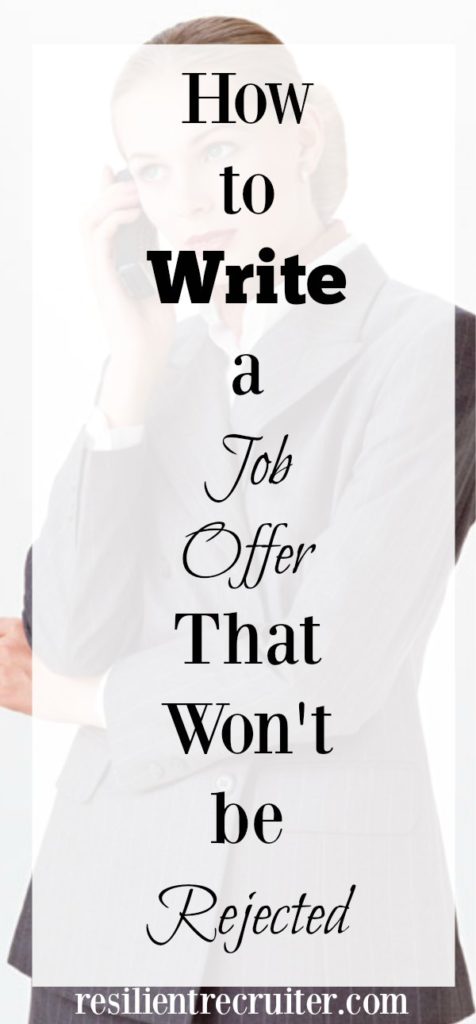 The job offer is, no doubt, the most exciting aspect of hiring journey! It is the culmination of a long, and sometimes tedious process – for everyone involved. After weeks of sourcing, screening, scheduling interviews, coordinating follow-ups, and checking references, it provides that satisfaction that makes the work (and the waiting) all worthwhile.
So WHY would anyone want to screw it up?
The answer to that question is: NO ONE does!
However, there are important steps that need to occur along the way to ensure that everyone's time, effort, and enthusiasm is not in vain. The job offer should be the victory party for a smooth and positive experience, not a tragic ending to what could have been a great relationship.
Here are some tips to keep in mind throughout the interview process to ensure that your job offer won't be rejected.
The Beginning of the Interview Process
Whether you are a business owner, an HR professional, or a third-party recruiter, there are some critical details that must be discussed (and addressed) very early in the process. Without clarity in these areas, you are leaving a window of ambiguity. When a job seeker does not have a clear picture of what the company has to offer, he or she has every reason to say "no".
Salary Expectations: With the new law passed in California prohibiting an employer from asking current salary, clarity in this area will become increasingly important. A distinct understanding of what a candidate's salary expectations are will prevent much of the miscommunication that can easily take place during an offer, often resulting in lengthy negotiations, or simply a rejection of the offer.
Commute Requirements: Having a clear understanding of how far (or how long) a person is willing to commute on a daily basis from the beginning will eliminate the need for second thoughts at the offer stage. If the person indicated he or she is willing to commute 45 minutes, no matter how perfect he is for the role, the fact that the job is 90 minutes away will always be a factor.
Travel: The same factor rings true when it comes to travel. Pay attention to the first thing a potential employee says about his or her travel preferences. This is usually the most accurate indicator.
Motivation for Looking: A candidate that tells you they "aren't looking", or one that is strictly motivated by salary or title when asked "why are you looking?" should be pursued with caution. This is most likely the individual that would accept a counter offer as soon as they are approached with one. They may even be interviewing for the job simply to receive a counter offer from their current employer. Investing time and effort in the interview process, only to use your offer as motivation for a raise is probably not the ending any employer wants.
Other Concerns: Pay attention to other concerns a candidate may mention during the interview process. What may seem like a small concern at the beginning could prove to be a deal-breaker at the offer stage.

During the Job Offer

When it comes time to extend the job offer to a candidate, communication becomes even more critical! One wrong move during this stage can mean the difference between a happy new employee, and being back at square one!
Make no mistake about it, there is often a bit of friction during this phase – this is a candidate's one and only chance to ask for what they want. He or she may never be able to again (or may have to wait until the next annual review).
So, listen to each request, and keep an open mind!
Some important tips to remember:
Move Quickly: Nothing puts a negative spin on a job offer like time does! If you have indicated that you plan to extend an offer, do so in a timely manner. Many candidates are considering multiple opportunities, and could be off the market if you decide to drag it out for another two weeks.
Secure a Response Time: Give the candidate a clear time frame to give either an acceptance, negotiate the offer itself, or a reject it. 72 hours is standard, though you may give a little more time if the offer is extended on a Friday. Do NOT expect a candidate to accept an offer on the spot. Even if he or she has every intention of accepting the job, the acceptance will most likely take place after the offer is discussed with the individual's inner circle.
Extend the Offer Verbally (in Person if Possible): An emailed job offer will never be able to exude the same enthusiasm as a live offer over the phone, or an in-person offer. As far as the ideal person to extend the offer – the jury is still out on that one. Many HR departments like to handle the job offer (for standardization purposes), but there are many cases where the hiring manager or recruiter makes the verbal offer.
Make Sure the Salary is There:

Many publications discuss the "10% Rule", but the rule of thumb I use is a bit broader. I repeatedly tell candidates that an expected increase will typically fall into the 8%-12% range. On rare occasions, an offer will come in at up to 20% more than a candidate's current salary, but again, I stress the word "rare".  Presenting a candidate with a

lateral offer

(or, gasp – less money!), is almost a ticket for an immediate rejection. There are cases, however, where a person is willing to take less. Be sure that it is clearly communicated early on so that the candidate is not insulted.
Be Prepared to Offer Alternative Options: There are times during a job offer when a candidate's current benefits package cannot be replicated by a new employer. Such cases would be instances where a candidate has a great deal of vacation time, or when a person's benefit premiums are completely covered. Be prepared to get creative! Options such as flex time, working remotely, or floating sick or personal days are great options to satisfy shortcomings in an offer. This is when knowing a candidate's motivations really comes in handy. Offering a perk that makes a person's life easier can be worth far more than money in the long run.
Don't Make Hiring Harder Than It Has to Be!
Download our FREE Offer Letter and standardize YOUR hiring process!
Conclusion

The job offer stage should be the most exciting part of the hiring process. Follow the correct steps to make the most of everyone's time in this exciting, yet frightening process!
by Natalie Lemons
Natalie Lemons is the Founder and President of Resilience Group, LLC, and The Resilient Recruiter and Co-Founder of Need a New Gig. She specializes in the area of Executive Search and services a diverse group of national and international companies, focusing on mid to upper-level management searches in a variety of industries. For more articles like this, follow her blog. Resilient Recruiter is an Amazon Associate.