Guest Post featured in Resume-Library.com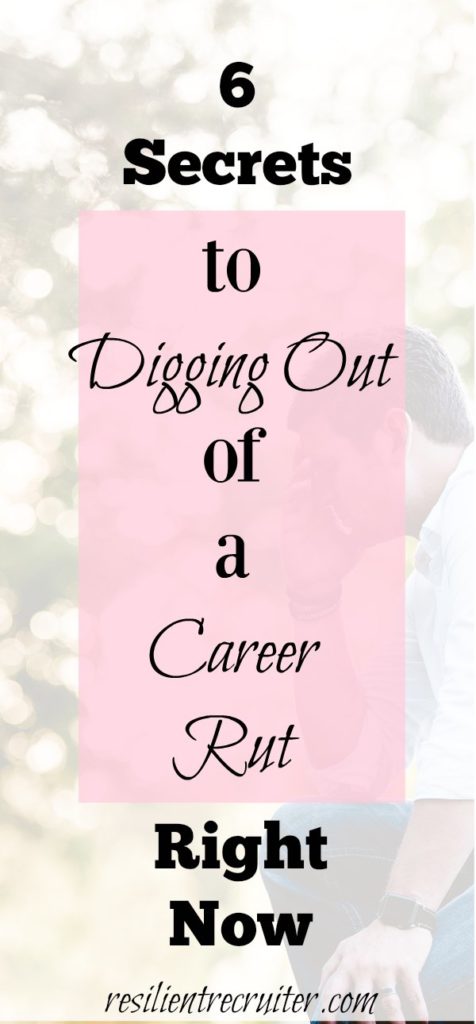 It happens to so many professionals in this day and age: you are gainfully employed at a reputable company with a good (scratch that – GREAT) job. You have been steadily moving up the corporate ladder each year, and are held in high regard with your department. But you still don't feel fulfilled or challenged. You are in what is termed as a "career rut", and aren't quite sure how to get yourself out of it.
Is this supposed to happen?
The short answer is no, but many of us come to a point where we realize that we are not moving in the direction we had hoped. Your source of fulfillment may be in a higher-level position, a role in a different company, or even moving to a different industry! There are some important steps to take to figure out where your passions lie, which we will discuss in greater detail.
How to Dig Out of a Career Rut

Climbing out of a career rut involves a great deal of self-evaluation. You are basically left with two choices: starting over somewhere else, or looking within your current company and determining where your talents can be utilized and challenged. Here's how to get started:
1.  Take a Look at Your Current Situation

Now is the time to evaluate what you are satisfied with in your career, and what you are lacking. If necessary, make a Pro and Con list. Do you enjoy the work you are doing? How about the people you work with? Be honest with yourself, or you could spend a lifetime chasing unhappiness. If you enjoy your job, but not your department or culture, it may be time to consider other companies. However, if you wake up every morning dreading every task you will need to complete, perhaps it is time to seek out a new career. Make sure that you take some time to consider this carefully – you do not want to make a complete career change just because your department is understaffed right now, or is going through a tough transition period.
[Related: 7 Ways to Get out of a Career Rut]
2.  Take Time Off to Rejuvenate
How many hours are you putting in each week? A fresh perspective may come in the form of some rest and relaxation. Stepping away from a stressful environment and unplugging from both email and social media may work wonders in terms of your outlook. Let your body and mind rest. You may come to the conclusion that the problem is not the job, but the fact that you are overworking yourself. After taking some time away, reflect on your feelings about your company and your position. If nothing has changed, it may be time to start doing some research.
3.  Research Your Alternatives

Where could your current skills be utilized within your company? Research the job functions in other areas of your current organization. Are there other departments that you work cross-functionally with that may align with your skills? Look within your company, and in other companies, to determine if there is a position that you could transition into and learn new skills at the same time. You may also find that a company of a different size – larger or smaller – may be a better fit for you. Be sure to do your due diligence (and be prepared with facts) before you approach your boss, or another business leader about a lateral move.

4.  Network with Other Professionals

If networking has not become part of your professional development, you should start today! Networking with others – in your age group, in your industry, in your city – is the single most effective way to find a job! According to The Balance, most passive job seekers find their next roles through their professional network. Where do you start? Join a professional networking group, attend an association meeting for your profession, or connect with former colleagues or classmates. Maintaining connections with other professionals is what it is all about. Networking doesn't have to be specifically for job search purposes.
5.  Get Rid of Toxic Habits

Most of us have at least one bad habit that we wish we could shed. Chances are, that habit is probably affecting your mindset. Do you make it a point to exercise regularly? Do you get enough sleep? Do you make healthy food choices? You may not consider many of these habits detrimental, but if you aren't taking care of yourself, your mental outlook suffers. Taking time to care for yourself as an individual on a regular basis is critical for overall success. Start small, but make it a point to change your daily routine. Your body and mind will thank you for it.
[Related: 5 Toxic Habits That are Hampering Your Career Success]

6.  Get a Game Plan and Implement It!

Whether you decide to stay with your current company, or make a drastic career change, do NOT make any impulsive moves! Get a game plan together, in which you strategize your career progression, and follow the logical steps to achieve that goal. While doing this, maintain your professional relationship with your current supervisor and colleagues. You never want to burn a bridge! Communicate your motivation for change in a clear and concise manner, and be sure to let your colleagues know that your decision is based on your need for professional development. Many supervisors will feel that the decision to move on is personal; it is important to clarify that your motivation is purely professional, and that you appreciate everything that has been done for you.
Once you make the move into a new position, embrace the challenge, and show your gratitude to the others that helped you along the way! Throughout your career, you may encounter others that are dealing with the same feeling. Take time to share your experiences and help others achieve success. They will thank you for it!
by Natalie Lemons

Natalie Lemons is the Founder and President of Resilience Group, LLC, The Resilient Recruiter, and Co-Founder of Need a New Gig. She specializes in the area of Executive Search and services a diverse group of national and international companies, focusing on mid to upper-level management searches in a variety of industries. For more articles like this, follow her blog. Resilient Recruiter is an Amazon Associate.

Starting a Business 101: Get the FREE Email Course
Free today - download our one-page Business Plan to get your idea in motion!
We'll guide you on the how-to of financial freedom in this 7-day email course!