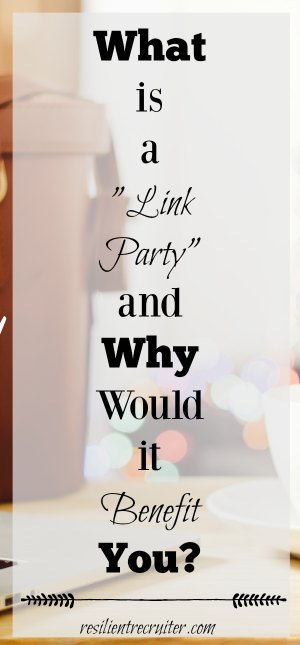 *This article may contain affiliate links, but I only stand behind products I trust.
The Link Party, also referred to as a Blogger Linkup, Linky, or Blog Hop, has been around for quite some time now, and has been a staple for many established bloggers. Each link party is as different as the next, just as no two blogs are the same.
Link parties can be second to none when it comes to generating new traffic and engagement! But many new bloggers are wary of the concept, and the many rules are confusing.
Let's first explore exactly what a link party is, and how to participate. We can then move on to their advantages.
What is a Link Party?

A link party is a post on a website that is hosting by using a tool, such as Inlinkz or Linky Tools, which allows the host(s), as well as other bloggers, post their latest blog post to the site. Each link party will have a set of rules listed prior to participating, such as "Follow your host on at least one social media platform", and "comment on two other posts".
Here are my rules as an example: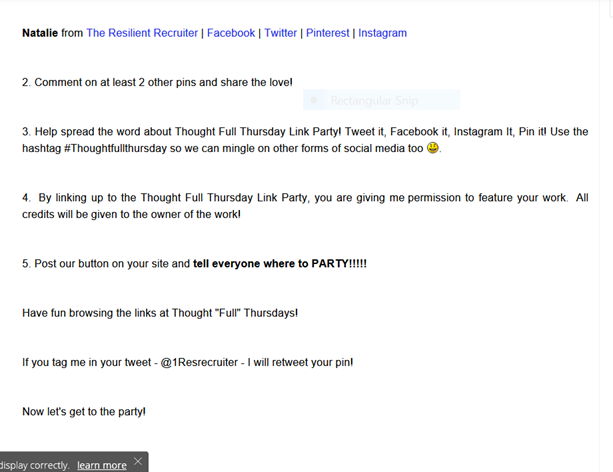 This gives a new blogger exposure to other blogs that may be in their niche (or other niches), and provides the possibility of being featured on bigger blogs – and the traffic that follows them. I have found most of the blogs that I interact with and read regularly through link parties, versus other blogging groups I belong to.
Similar to Facebook Groups, link parties encourage interaction and engagement. Since each link party is unique, there is a chance that you may come across a link party that fits exactly into your niche!
How Do I Link Up?

Once you are on the blog party page, you are going to want to scroll to the bottom of the page, where you will find the icon pictured below: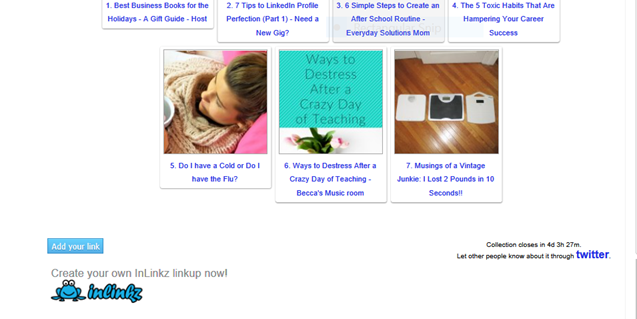 This indicates that the party is open (the time on the right will tell you how much longer it will be open). Just a piece of advice – the first few posts and the last few posts seem to get the most interaction, so your best bet is to link up right away, or wait until the party is nearing its end.
Click on the blue button:

This will take you to a screen where you will paste your Post URL, not the URL to your blog. You want to promote a single post with each submission. Some link parties will let you submit up to 3 posts per party!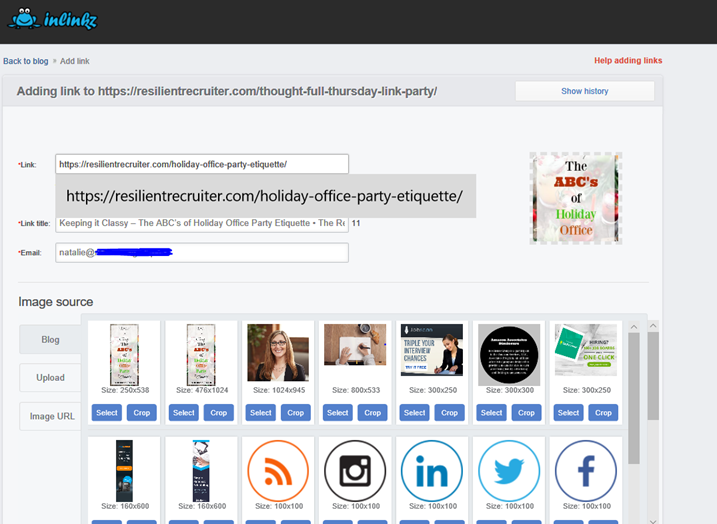 Once you paste your link, the title will fill in automatically. Most link parties allow for 50 characters, but my title always needs to be edited, so for my link party, I have a 100-character limit.
You will then move down to your images. The linkup tool will automatically pull images from your blog post – as you can see, it has pulled my social sharing icons, some ads, my Pinterest image, and my headshot. You can choose one of these, and crop as desired, or you can choose to upload a different image. The preview for the image will be in the right-hand corner, and you can adjust it to your liking.
Once this is all complete, you will click "done" in the bottom right corner, and a button will come up to take you back to the link up.
Once you are back, follow the rules and comment on or share other posts that interest you.
Most link party hosts will want you to add one of their "buttons" – you can put it on your blog post, in the sidebar of your blog, or create a page like I did with "places you link up at". It all depends on how many link parties you participate in.
What is a button? Here is an example of the button for my link party: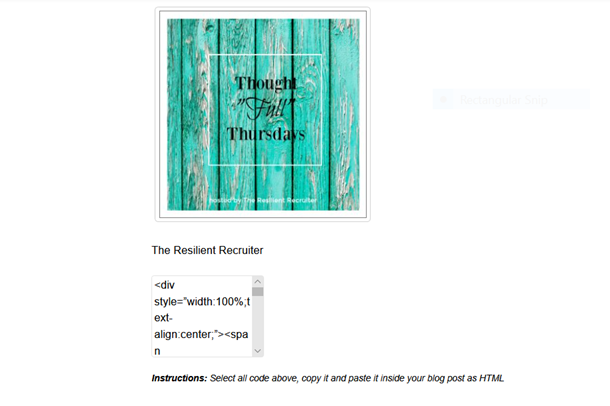 How Can a Link Party Benefit Me?

As I mentioned in the first section, link parties can drive tons of additional traffic to your blog. You are also creating backlinks to your site elsewhere on the web, which improves your SEO ranking. If you are featured, this provides even more traffic (and my get you noticed from much larger bloggers)!
There are benefits to promoting to niche-specific, as well as general link parties. Niche-specific parties (crafting, recipes, and parenting link parties seem to be the most common) will immediately connect you with other like-minded individuals, which can in turn lead to collaboration opportunities, shared resources, and friendship.
Linking up in general blogs will give you exposure to readers from different niches, who often show a great interest in new and unique content!
Participating in link parties can also be a great leveraging tool if you are looking for sponsored posts, or paid opportunities. It is much more attractive to a brand if you indicate that not only will your post receive blog traffic from your site, but you will be posting to 50 other sites as well!
Not all link parties will provide you with the best traffic. Pay attention to your Google Analytics statistics to figure out which parties provide you with the greatest benefit. It is sometimes the small parties that provide the most post interaction.
Link Parties Now Have a Scheduling Tool – and it's FREE!!!!

The other social media platforms have scheduling tools to make your life easier: Tailwind, Board Booster, Buffer – well, now there's Link Party Animal! Link Party Animal is a free scheduler that provides link party directories (shown below), as well as a scheduling tool to schedule specific posts to specific link parties on different days of the week. How cool is that?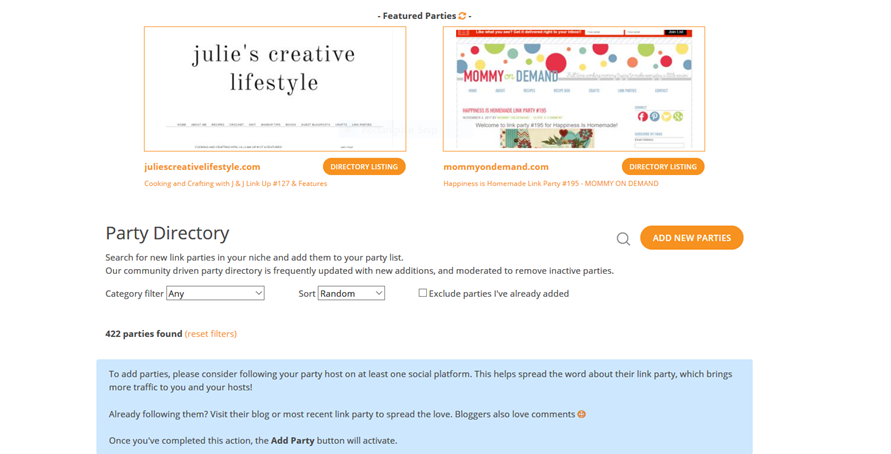 You can sift through the party directory by category and sort them by days of the week. As mentioned above, however, DO make it a point to only join as many link parties as you can actively participate in. They can take a good deal of time each week, so be sure to keep that in mind.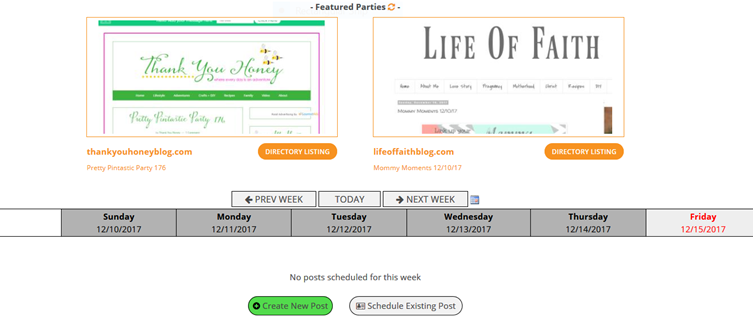 As you can see above, you can post new posts, reschedule existing posts (though this is often frowned upon by link party rules), or schedule posts well into the future. If you are a popular link party, you are featured at the top of the dashboard.
And did I mention – this platform is FREE (for now, at least)? So take advantage of it!
Conclusion

Link parties can be an efficient alternative means of traffic. They provide a method of gaining exposure that is of no cost to you (unless you are the host of the link up). If your post is featured, you stand to gain additional traffic, and may catch the eye of a larger blog.
Link parties are great ways to get to know other bloggers, and can provide great collaboration opportunities within your niche.
The interaction involved on other blogs does require a bit of time, but Link Party Animal eliminates the need to visit a site and post in multiple places.
I do have one site that has one of the most comprehensive lists I have seen, so I have it give it mention: Reviews, Chews, & How-Tos. Here is the link to RCH's link party directory. Check it out: https://rchreviews.blogspot.com/p/where-we-party.html
Hopefully, this was helpful, and will encourage you to give link parties a try!
If you are interested in joining my link party, check us out at: Thought "Full" Thursday Link Party. This page will always have our most recent link paalso click the picture below. Happy linking!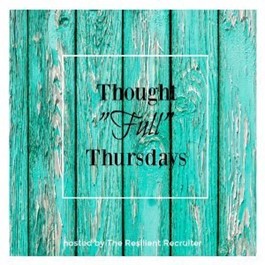 Interested in a Link Party Reminder?
Your email will only be used to send reminders for the link party.