Why I Dumped Monster.com for ZipRecruiter
And Why You Should, too……

**Note: this page contains affiliate links, but I only represent products I use and trust!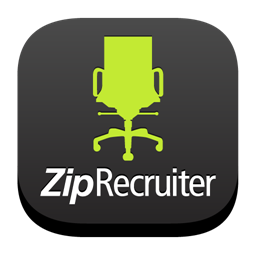 Unless you have been living under a rock, you've noticed that the job market has changed over the last few years – a LOT! Five years ago, I had a wealth of qualified candidates, but few jobs to put them in. Today – the situation is very much the opposite! There are mass numbers of open jobs, but the candidate pool is scarce. When you have a qualified candidate, he or she has multiple offers before you can get them in for a second interview!
Things could be worse. We learn to adapt with the changing market.
So why shouldn't our recruiting tools change as well?
Back in the Day…

The year was 1999 and I was working in a staffing firm. We were equipped with the normal tools: a phone on our desk, a legal pad, a stack of old job orders to use as leads, an index card box to serve as our Client Rolodex, and of course, the Phone Book. We had a state-of-the-art fax machine to submit resumes (or you could choose to send them by mail). Some of the more seasoned recruiters had computers (gasp) on their desks! The internet was something we were starting to hear about, and if you used your phone line, you could dial up a connection (as long as you didn't use your phone and had about ten minutes for it to connect).
We heard about this NEW concept – it was called the Monster Board. Instead of posting jobs in the newspaper, you could post them on this board, and people lucky enough to have the internet could apply to jobs on this "super job board".
Sounds antiquated, doesn't it? But for many years, it worked amazingly well. As technology changed and became less expensive and more advanced, things started to change.
Our firm really started to notice the changes occur as the years passed by. In 2010, Monster.com was passed up by Indeed as the biggest job board. It now holds the ranking of number three, behind CareerBuilder. But a new player is emerging…
A New Player in Town

A few years back, a client we were working with introduced us to a new career search tool, ZipRecruiter. ZipRecruiter was inexpensive and offered some amazing features, such as the ability to "boost" your posts to up to 50 different job boards. According to a Pando.com article on ZipRecruiter, "ZipRecruiter helps small- and mid-sized businesses (SMBs) compete with Fortune 500s in the recruiting sphere by automating job posts distribution across 50 online job boards and offering a back-end candidate tracking and management solutions".
ZipRecruiter is quickly gaining ground. They add over 7 million job seekers a month, and have 40 million job alert email subscribers. They have the #1 rated Android and iOS job search app. Other articles I have written about state that 88% of job seekers search for jobs on their smart phones, so having the #1 job search app is a pretty big deal.
It sure doesn't hurt that ZipRecruiter also costs about 1/3 the price of an average Monster.com subscription, comes with both resume search and posting options (in addition to optional boosting feature), and does not require an annual contract.
That's not all.
They want to share their success. They have developed a custom job roll feature that allows search firms, career blogs, or other companies, to install personalized ZipRecruiter job rolls to their sites to make searching for jobs even easier for job seekers. I have included a screen shot of a ZipRecruiter job roll on our Job Seeker site, Need a New Gig below.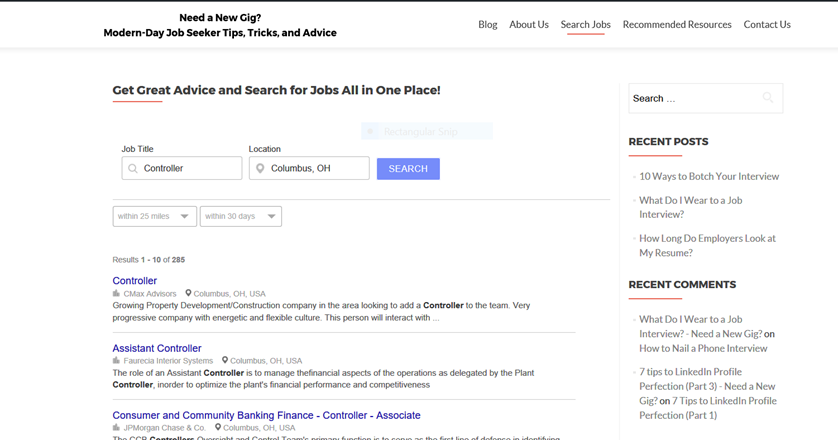 As you can see, job seekers can read up on job-seeking tips and other articles, while having the ability to search for open jobs in their area (the location automatically adjusts to your city and state based on your IP address. ZipRecruiter is also available in the UK. Companies who become ZipRecruiter partners are also able to offer Zip Alerts for available jobs that are similar to the positions they are searching for. Below is an example of a Zip Alert box:

The alerts come with your company's logo to further reinforce your brand, and provide an additional service to your customers! A win for everyone, right?
Partner companies (including us) receive compensation for hosting the job roll and alert boxes on their sites. ZipRecruiter creates a custom link that tracks usage on your site. Compensation works four ways: on a pay-per-click basis per job, whenever someone creates a profile and posts a resume, when someone posts a job, or when someone signs up for Zip Alerts.
Would Your Company Benefit from this Partnership?

If you think you or your company would benefit from this partnership, please follow my link here to sign up! It costs you nothing, but has the ability to provide convenience for your candidates and clients, plus an additional stream of revenue for you!
Apply to become a ZipRecruiter Publishing Partner.  Want to try it first?  Use my link and receive a 4-day free trial.
I dumped Monster.com for ZipRecruiter this year. You would be wise to follow suit!
Natalie Lemons is the President of the Resilience Group, LLC, and the author of The Resilient Recruiter. Please follow her blog for more articles like this, plus helpful free downloads for recruiters or those starting a Recruiting business or blog.

Navigate YOUR Career Path!
Get in on our newsletters, FREE products and content to make your job easier!